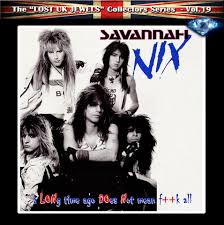 Tracklist
01
No Tracklist Available!
Description
Founded in London during 1987 and originally composed by Swiss-Spanish vocalist Dave Rubio (later replaced by Marc Huckle), guitarists Colin "Alexander" Bowles and Max Numa (previously known for his Metal band Hallowed), Mark Goodchild on bass (later replaced by Karl Chappell) and drummer Ramsey Bishara (later replaced by Jules Fayleparr), SAVANNAH NIX officially released two demo-tapes (professionally recorded) during the 1988-1989 period, with a third one andsome more songs recorded and never released to the public.

-With a strong image ("Kerrang!" called them "girlie contingent") and a very intriguing sound influenced by bands like Skid Row, Dokken, Motley Crue and Ratt, SAVANNAHNIXplayed the England live-circuit for some years, trying, in the meantime, to find the right label-deal, that -unfortunately for them -never arrived, although the band had been contacted by the likes of MCA Records, Music For Nations and Sanctuary management.

-After some line-up changes, the band called it quit. A real shame considering the high quality and energy of their songs and their live-shows!

-The"LostUK Jewel" CD will featured ALL the material ever recorded by the band, taken from the original master-tapes and professionally remastered by the banditself, including the two songs appearedon the "Metal for Muthas '92" compilation issued in Japan by Pony Canyon, as well as a de-luxe full colour16 pages booklet fullof unseen pics, flyers, memorabiliaand the usual extensiveliner-notesby Rob Evans.-For fans ofearly Skid Row, Shotgun Messiah, Babylon A.D.and Motley Crue !!!