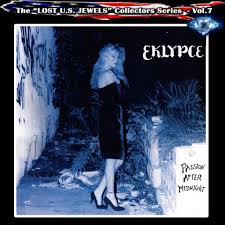 Tracklist
01
No Tracklist Available!
Description
- Led by vocalist Bob Wheeler, EKLYPCE debut-album "Passion After Midnight" was released independently on vinyl forma, during 1989, and it's a treasure trove of Bon Jovi and Surgin-esque AOR, the kind that acts all over America were chasing due to the immense success that was being afforded New Jersey's favourite sons, back in the late Eighties.

- Whether it's the surging "Make Me Feel Right", the stabbing keyboard brilliance of "I'm Only Me" or "Lady Love" with its liberal sprinkling of keyboards, this is an album for the AOR "connoisseurs" / Melodic Rock collectors, a true "lost jewel" that has been fully restored and remastered, with a rich 12-pages booklet, containing many unseen pics, all songs lyrics and the useful liner-notes written by Classic Rock "maestro" Rob Evans.

- First time ever on Cd with 4 additional bonus-tracks taken off personal Bob Wheeler's collection. - EKLYPCE's predominantly keyboards-driven FM Radio sound recalls the style of early Bon Jovi, Surgin and Aldo Nova.

- With original Vinyl copies of the album going for over 500 Euro, you'd better hurry up and invest on this500 copies limited edition CD !