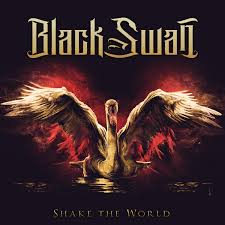 Tracklist
07
The Rock That Rolled Away
Description
Vocalist Robin McAuley (McAuley Schenker Group), guitarist Reb Beach (Winger, Whitesnake), bassist Jeff Pilson (Foreigner, The End Machine, ex-Dokken), and drummer Matt Starr (Ace Frehley, Mr. Big) have joined forces in BLACK SWAN, a new band project signed to Frontiers Records. Their debut album, "Shake The World," an aptly titled album if ever there was one, is a delightful romp of powerful hard rock that is not simply the sum of its parts, but a powerful rock 'n roll machine.

Tracked at Pilson's home studio in LA, "Shake The World" is a showcase of both the musical talents of the instrumental players in the band as well as McAuley's powerful voice. The four members got Black Swan off the ground by exchanging ideas back and forth and then bringing all the songs together. The final result is something fresh, very heavy, but still intensely melodic and it's certainly not Dokken, nor Winger or MSG, but it's own unique animal. As an example, one of the songs was written by Jeff Pilson right after seeing the QUEEN movie 'Bohemian Rhapsody'. "I came home and I sat down at the grand piano and pretty much wrote exactly the chorus that we have, just coming straight [from] the movie. It is a bit QUEEN-like."

"It's amazing, incredible music," continues Pilson "Wait until you hear everybody's playing and singing. It's beyond -- way beyond."

"Shake the World" is a killer slice of melodic hard rock/metal from seasoned players who have gelled musically. Whether you are fan from "back in the day" or brand new to the scened and just diving in, this album is essential listening!