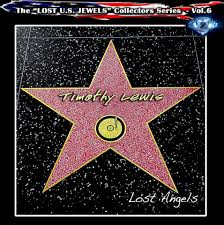 Tracklist
01
No Tracklist Available!
Description
-The "aficionados" of the AOR genre will be well aware of Timothy Lewis for when he occupied the vocalist-seat as a part of cult AOR-act, Departure.But what really shines on its own is Timothy's solo material, previously recorded: his original self-financed promo-CD featured eight tracks of the kind of AOR that dreams are made of, lush harmonies, incisive keyboards and amazing guitar solos.

-In Rob Evans' (Classic Rock, Power Play, Fireworks) words: "Here's a man that is Perry, Chalfant and Hugo all rolled into one; a bold statement for sure but when you get to hear this guy I'm sure you'll agree that he is something special".

-Listening to his music, it's pretty obvious that Timothy Lewis's main influence comes from one man in particular: Mr. Steve Perry.Lewis' songwriting and vocal-style is very close to the one of those big Melodic Rock acts of the '80ssuch as Journey, Styx and Boston.

-All the material (the above-mentioned promo-Cd plus 9 more tracks taken off Lewis' personal archives) has been carefully re-mastered from the original master-tapes and it will be released (as usual) in a rich full-color booklet, with many artist's pics, the complete Lewis' history written by UK journalist Rob Evans and with a special track-by-track put together by Timothy himself.

-If you like the mellow sound of Rock, in the Journey meets Styx-vein, with some rockier tunes mixed with AOR ballads-type of stuff, here is something for you!