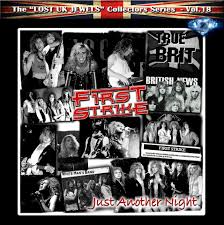 Tracklist
01
No Tracklist Available!
Description
-FIRST STRIKE was formed in 1988 by ex SAMSON lead singer Mick White andbassist Billy Kulke (ex Jagged Edge), with guitarist Dee Dowling and drummer Dave Anderson. They were a band on their way to the success, playinglive with the likes of GIANT, SARAYA, DARE, SHY and MIDNIGHT BLUE,as well as headlining some historical clubs like the "Marquee"and the "Astoria",but the music scene that was rapidly changing in the early nineties stopped their big dreams.

-The band recorded a dozen songs in a 4 years-period, from 1989 to 1992, butthese amazing tunes never had the chance to be properly released before.A real shame, as this was a band that should have done so much more.What they did leave was a fine musical legacy, with this CD being the ample proof. As Jerry Ewing declared in the pages of "Metal Forces": "FIRST STRIKE: first-class performance, first-class material, first-class band !"

-Musically-wise, FIRST STRIKE sounds more American than British, with songs that could easily be placed in the Hair Metal/Hard Rock-area of bands like Britny Fox, Heaven's Edge, and Autograph, and other songs more in the Melodic Rock/AOR-style (a la early Bon Jovi, Y & T, Shy).

-All the material (12 songs, in total) has been carefully remastered from the original master-tapes and it will be released (as usual) in a gorgeous 16 pages booklet, with many band's pics and the complete story of the band written by UK journalist (and Rock legend) Rob Evans.