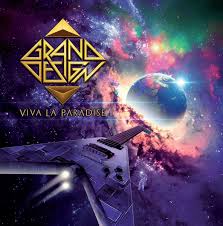 Tracklist
08
Straight From The Heart
09
Too Late To Fall In Love
Description
Swedish band Grand Design was formed in 2006 by vocalist/producer Pelle Saether. The band's first 1st
album "Time Elevation" was released in October 2009. The release gained massive success and was
awarded 'best album' and 'best song' by BeRockRadio and received numerous top 10 positions for "best
album 2009". Several concerts, including the prestigious FireFest in Nottingham, UK proved that Grand
Design also deliver live.

In 2017 the latest album "Viva La Paradise" was recorded. Continuing on the path of 2014s "Thrill Of The
Night", the band feels this marks the strongest album to date. The same old melodic hardrock style and
sound, but elevated and with a few new surprises.