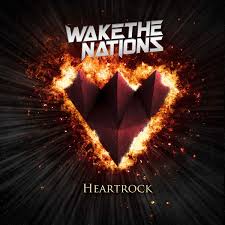 Tracklist
09
Somehting In Your Eyes
Description
Heart-shaped rock from Finland! The second album of Wake the Nations (WTN) is loaded with fresh AOR tracks containing a twist of the 80's melodic hard rock.

In 2009, Risto Tuominen got interested in a band that was being established by Janne 'Gekko' Granfors: a grunge-type of band with Krister Stenbom on the lead vocals, Tuomas Pelli on drums, and Gekko on guitar. They were after a bass player, but since Risto came along, Gekko took the bass guitar. A hard rock band 'Villa Sucka' was formed. They wrote songs actively and recorded an EP during the spring of 2010. In the same year, Risto got recruited to a melodic rock/AOR band 'Human Temple'.

Gekko soon followed him. In those times, Jori 'Jorge' Tojander was the keyboard player of Human
Temple. As Human Temple was having a break, Risto decided to start recording his solo album in
2012. During the past years, he had written some songs that were never published. Risto asked Jorge, Gekko and Kalle Saarinen, all from Human Temple, to help him with the record. Also, Tuomas got an enquiry whether he could join.Initially the idea was to record already written songs just for his own sake, with good quality. But things got more and more ambitious... Risto came up with a thought of 'Wake the Nations' project band. Janne Hurme (Human Temple) and Petri Kitti (Violent Code) permitted him to record two of their songs as well, and so the album became to form an entity of its own.

It took a year to fine-tune the songs. When it was time to record the vocals, Risto wasn't confident enough to do it himself. So, he began to search for proper singers. In 2013, he found Estef Martinez (Insider) from Ecuador, Dado Topi? (Time) from Croatia, Taage Laiho (Kilpi), and Nils Nordling (Silver Bullet). Janne Hurme and Krister Stenbom were invited also. In addition, Timo Pelander (Finlanders) played guitars and Jari Pailamo (King Company) keys on some tracks. 'Sign of Heart' was born in January 2015. The album got its way to the top-50 of the official Finnish chart in the first week after
release.

The band did not have a fixed front man and they were not supposed to tour anyways. But as a one -
time-occasion, they played at album release party, it became evident that WTN would continue playing for live audience. Soon Krister joined the band and WTN hit bigger stages. Live performance in DBTL festival 2015 was a turning point: WTN opened for Sunrise Avenue and got some international interest after their show. Ever since, the band have been playing numerous gigs: for instance, they have toured Germany numerous times and supported Swedish metal act Dynazty during their 'Titanic Mass'
tour in Finland. These guys are known not only for their music, but also energetic and positive attitude which is present on and off stage.

During the years 2016-2018, WTN wrote and recorded material for 'Heartrock'. It was done in cooperation with some of the best melodic hard rock professionals in Scandinavia. For instance, writers also include gurus as Sören Kronqvist (Joe-Lynn Turner/One Desire) and Thomas Wikström (Therion), mixing and mastering was conducted by the almighty Erik Mårtensson (Eclipse/W.E.T.), producers include Ilkka Wirtanen (Reckless Love/The Nights). The end result being a solid yet diverse melodic AOR album with stadium rock sounds, a hint of the 80's, and interesting stories of life and love.