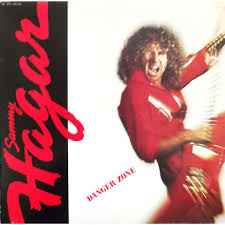 Tracklist
04
Mommy Says, Daddy Says
05
In The Night (entering The Danger Zone
Description
SAMMY HAGAR'S FIVE album tenure with the Capitol records label concluded with Danger Zone, a particularly gutsy album that moved the guitarist away from his more considered song writing style to a
fuller hard rock sound boasting lashings of attack and excitement. It was a formidable album that set the red rocker up for major career advancement and a lucrative deal with his next label Geffen
Records. Recorded in San Francisco, the record was originally set to be produced by Tom Scholz, the embittered leader of multimillion seller's Boston, but it was a move nixed by Tom's record label who insisted that he concentrate on finishing up their album first. Not to be outdone, Hagar recruited British engineer Geoff Workman fresh from recording Journey's breakthrough album Infinity. That wasn't the only Journey connection as both vocalist Steve Perry and guitarist Neal Schon made guest appearances helping to showcase a thoroughly impressive collection of tracks and a production that propelled Hagar's stature ever upwards. Originally issued in 1980, the record contained ten golden hard rock nuggets including the cut and thrust of openers 'Love Or Money' and '20th Century Man', two of Hagar's most accomplished recordings to date. 'The pace continues with 'Miles From Boredom', the sinister strains of 'In The Night (Entering The Danger Zone)' and the triumphant 'Run For Your Life'. It is a record that enhanced his reputation as one of the most compelling and significant artists of the era.