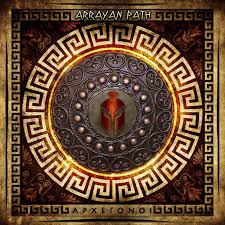 Tracklist
01
Weaving The Web Of Destiny
06
Bellerophon (forged By The Blacksmith)
Description
Epic Power Metal masters ARRAYAN PATH return with their 7th album, their third offering in three consecutive years! A follow-up to 2017's highly acclaimed "Dawn of Aquarius" (album of the month in Greek Metal Hammer among countless other commendations), ARRAYAN PATH's new album sees them reaching yet another milestone as it's the band's first double-disc album ever!

The new album is somewhat of a concept album, not in the sense of a story being told from start to finish but one that derives its themes from the same "pool" of ancient-born ideas and influences related to the ancient world and more particularly to ancient Greece. Ancient Greece after all has always played an integral role in the band's history.

With its 14 tracks and over 80 minutes of music, this is an album that's as complete as it could possibly be and although the easy choice would be to simply "cut" one or two tracks in order to fit everything on one disc, it was strongly felt that nothing should be left out, which is why the decision to release it on two discs was reached. This way the "journey" on which the album will take the listener will be thoroughly enjoyed and experienced exactly as the band intended it. As the band comments: "This album will excite you to pick up a sword and switch to warrior mode but at the same time touch your more sensitive side while carrying you to those ancient times. THIS is the real spirit of ARRAYAN PATH!"

The album includes a long list of amazing musicians, friends of the band, participating as guests, but special mention should be made to the legendary Mark Zonder (WARLORD, FATES WARNING) whose unique drumming needs no special introduction. All drums on "ARCHEGONOI" are performed by Mark Zonder and of course his unmatched performance makes the entire album shine even more.