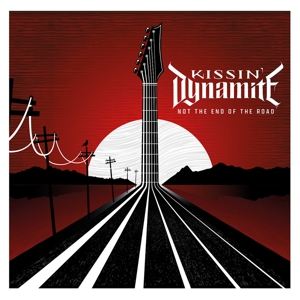 Tracklist
01
Not The End Of The Road
Description
Formed in 2007, German heavy metal formation KISSIN DYNAMITE has more than made a name for itself in the scene: with six studio albums and various chart successes (#7 in the GER album charts with 2018's full-length Ecstasy), the band established its trademark style - characterized by modern sounds, massive anthems and catchy hooks, paired with 80s stadium rock attitude and an extraordinary look. Now the combo is ready to release their Napalm Records debut Not The End Of The Road and pave the way for metal in 2022 with 12 powerful tracks.

In true power/heavy metal fashion, the melody of the intro and title track ""Not The End Of The Road"" prepares you for a rousing trip while ushering in a new collection of anthems straight from the heart of the KISSIN DYNAMITE universe! The instant earworm ""What Goes Up"" transports the listener into truly spectacular soundscapes that make stadiums quake and convinces with Aerosmith-like guitar attacks paired with an anthemic hook. But KISSIN DYNAMITE are not afraid to show their softer side either, as on tracks like ""Good Life"" or ""Gone For Good"" the five-piece not only presents almost tranquil borrowings, but also reveals the softer side of Braun's vocal repertoire. As a counterpart, songs like ""No One Dies A Virgin"" and ""Yoko Ono"" symbolize absolutely catchy party anthems and outliers like ""Coming Home"" and ""Defeat It"" clearly cement their influences from the stadium rock era without being pigeonholed. ""Vodoo Spell"" again manifests the band's unbeatable versatility: starting with primary dark rock influences, the song develops into an opus that can easily take on the big stadium giants. The album-closer ""Scars"" proves once again that KISSIN DYNAMITE can also go absolutely deep and shows their lyrical vulnerable side - an impressive conclusion that absolutely screams to be played live.

The new studio album was produced, recorded and mixed by singer Hannes Braun (Südland Music) himself, who has also worked with bands like SANTIANO, THE KELLY FAMILY or BEYOND THE BLACK. The mastering was done by Jacob Hansen at Hansen Studios, the Grammy Award nominated producer is known for his work with bands like VOLBEAT and many more. "