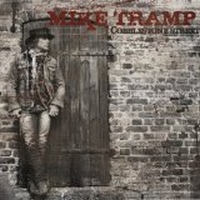 Tracklist
04
Ain't The Life I Asked For
09
What Are You Gonna Do?
11
When The Children Cry (bonus Track)
Description
2013, The new album COBBLESTONE STREET is a departure from the sound that most people would expect from a singer crashed on to the Hard Rock scene in the 80s fronting the band White Lion. Rock fans have gotten to know Mike Tramp as a legit rock singer and frontman that looked like he was born to be just that. Therefore many might find it surprising that Tramp's roots and musical upbringing lie deeply buried in folk music. Heavily influenced by fellow Danish artists with acoustic guitars and international stars like Bob Dylan, Neil Young and Bruce Springsteen, Tramp says that all of his songs through 35 years on the music stage, have always come from sitting with the old faithful acoustic guitar playing and singing. That White Lion songs like ,,When The Children Cry", ,,Broken Heart" and ,,Wait" have ended up as epic rock classics is just a question of arranging them in that way with the band in the rehearsal room, but all songs have always been fit to play around the campfire or in the back of a shady bar.