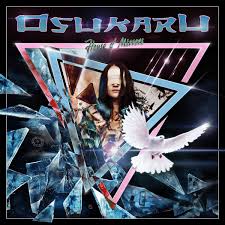 Tracklist
04
Ain't Too Late (for Love)
Description
OSUKARU - "House Of Mirrors" - Details of the new studio album. After a one-year break the Swedish hard rockers OSUKARU are back with a stable line-up and the new album "House Of Mirrors".

The band manages to create a unique Hard Rock album, as they did at the 2017 output "The Labyrinth", and to keep all their own trademarks.

The album is pushed forward by the unique vocals of Frederik Werner, as well as the great guitar riffs of the string witch Os Osukaru, in combination with the dynamic rhythm duo Vidar Mårtensson (drums) & Olof Gadd (bass), and make "House Of Mirrors" once again an outstanding hard rock album that doesn't need to fear any comparisons.

The CD will contain 11 new tracks and a 16-page booklet.