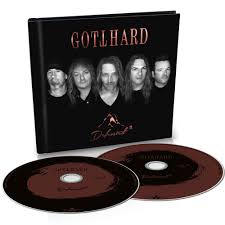 Tracklist
04
Sweet Little Rock 'n' Roller
10
Tequila Symphony No. 5
12
Bye Bye Caroline (acoustic Version)
13
What I Wouldn't Give (acoustic Version)
Description
For more than 25 years GOTTHARD have been proving their place in the global spotlight with outstanding songwriting and spectacular shows: 16 No.1 albums, more than three million sold albums, various prizes and worldwide awards.
Honours as well as well over 2000 shows on the whole planet are the impressive balance of the undisputed rock instance from Ticino.

"Defrosted 2" is a 22-track live recording of the overwhelming tour of the same name of the Swiss Hard Rock giants GOTTHARD. It contains the two new acoustic tracks "Bye Bye Caroline" (feat. Francis Rossi) and "What I Wouldn't Give". "Bye Bye Caroline" was written with Status Quo founder Rossi himself and is based on Status Quo's song "Caroline", who has been the live opener of UK rockers for 25 years. Rossi also did not miss to contribute guitar and duet vocals to the song.

The 4LP BOX contains the bonus track "What I Wouldn't Give" (orchestra version).