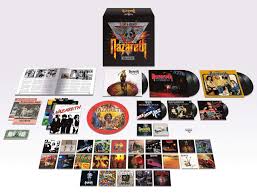 Tracklist
01
No Tracklist Availaible!
Description
Founded in 1968, Nazareth has evolved from the clubs and pubs of its Scotland has developed into one of the most successful rock bands in the world and is have produced a number of hit albums on their careers. Hard working, honest, genuine and unimpressed by the whims of trends, this band has many great artists half a century later. Half a century later, with 20 million albums sold at the all over the world, the legendary Nazareth still rock and Loud & Proud is the ultimate collection for the true fan.

The 50th Anniversary Album combines recordings from 1971 - 2014 and is released on 3CD in Mediabook, 2LP in colored 180g-Vinyl and Gatefold Sleeve as well as luxurious Deluxe Box Set. And that's what it's all about: the box set contains 32 CDs (all 23 original CDs). studio albums (remastered), two original live albums as well as unpublished audios and demos), four 180g 12" Vinyl LPs including two doubles and one Picture Disc, three exclusive 7-inch singles, a 52-page hardcover photo book with new and earlier interviews, unpublished photos and posters, reproductions of original Memorabilia like programs, lyricsheets, posters and a Rampant dollar bill sticker and a metal pin.These sets offer a journey through the 50-year career with key tracks from any studio album and global hits such as Love Hurts, This Flight Tonight, Bathroom, Bathroom Boy and Broken Down Angel.