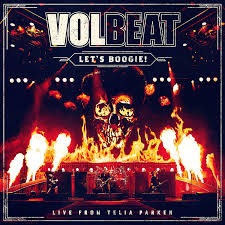 Tracklist
01
The Devil's Bleeding Crown
05
Let It Burn (feat. Mia Maja)
09
7 Shots (feat. Mille Petrozza Und Rod Sinclair)
01
Maybellene I Hofteholder
03
For Evigt (feat. Johan Olsen, Mia Maja Und Rod Sinclair)
04
Evelyn (feat. Mark Barney" Greenway)
07
The Garden's Tale (feat. Johan Olsen)
08
Guitar Gangsters And Cadillac Blood (feat. Lars Ulrich)
09
Enter Sandman (feat. Lars Ulrich)
10
A Warrior's Call (feat. Mikkel Kessler)
11
Black Rose (feat. Danko Jones)
12
Pool Of Booze, Booze, Booza
Description
On 26 August 2017 VOLBEAT sold out the Telia Parken Stadium in Copenhagen. With 48.250 sold tickets, they have held the record for the biggest show of a local show ever since.Artist. In order to celebrate and perpetuate this peak of their career, the band released their new live album and the accompanying concert film "Let's Boogie! Live At Telia Parken". The 26 tracks contain live versions of chart breakers like "Still Counting", "For Evigt", "The Devil's Bleeding Crown" and "A Warrior's Call", also a live performance of the new song "The
Everlasting". Among the special guests are Mille Petrozza, Johan Olsen, Mark 'Barney', and others. Greenway, Lars Ulrich, boxer Mikkel Kessler and Danko Jones.

The Livealbum appears as double CD in the Digipack, on DVD inclusive double CD, on Blu-Ray inclusive.
Double CD as well as 180g triple vinyl incl. download code and booklet.