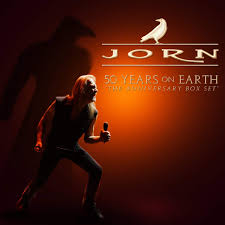 Tracklist
01
No Tracklist Available!
Description
Jørn Lande was born on 31 May 1968 in little Rjukan, in the heart of Norway. 50 years later we can celebrate and pay tribute to the work of one of the greatest rock singers with this 12 CD box.

The box contains the nine original albums 'Worldchanger' (2001), 'Out To Every Nation' (2004), 'The Duke
' (2006), 'Lonely Are The Brave' (2008), 'Spirit Black' (2009), 'Dio-Song For Ronnie James' (2010), Bring Heavy Rock To The Land' (2012), 'Traveller (2013) and 'Life On Death Road (2017), as well as a CD with 16 bonus studio tracks, another CD with 13 of his best live tracks and a final CD with his 15 best cover songs (mostly from the albums 'Worldchanger' and 'Heavy Rock Radio').

The ultimate plus for all Jorn fans!