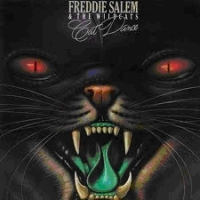 Tracklist
01
Dark Horizon/london Town
04
Sunset (second Chance)
Description
2012, special Limited Deluxe Collector's Edition. Fully remastered sound shaped from 24 BIT digital technology, full colour booklet - liner-notes, enhanced artwork, memorabilia, rare photos, and full involvement from the band.
HE MAY Not be internationally well known but Freddie Salem is one of the most impressive American rock guitarists to have emerged in the 1980s. As a member of Southern guitar gods the Outlaws, Freddie injected feisty guitar pyrotechnics into the band's most commercially successful albums like 'Ghost Riders' and 'Los Hombres Malos', before cutting loose to record a solo album.
This was his debut, and so far only, solo album, recorded for the Epic (Sony) label in 1982 and it showcased Freddie in valedictory mood, looking to spread his wings with various shades of guitar-fuelled mayhem. Self-produced and recorded in New York City, the album captured a healthy mixture of Manhattan's manic pace whilst still boasting a Southern rock tinge, proving that you can take the man out of the country but you can't take the country out of the man.
'Cat Dance' is a fine album indeed, boasting a healthy selection of solid and memorable hard rock tracks and blessed with lashings of Freddie's blistering guitar work, including hip thrusting riffs and lightning fast solos. Released just as SONY laid off half of their US staff in a frantic cost cutting exercise, the album failed to make a commercial impact and was left to find its own audience.