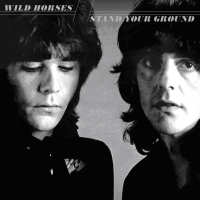 Tracklist
12
Everlasting Love (bonus Track)
18
Rocky Mountain Way (live)
Description
2012, special Limited Deluxe Collector's Edition. Fully remastered sound shaped from 24 BIT digital technology, full colour booklet - liner-notes, enhanced artwork, memorabilia, rare photos, and full involvement from the band.
LAUNCHED AS a veritable super group featuring ex Rainbow bassist Jimmy Bain and former Thin Lizzy guitarist Brian Roberston, Wild Horse were trumpeted by the music community as the next big thing. Indeed, their self titled debut album turned a great number of heads and confounded those who dismissed the toxic twins as mere opportunists looking to cash in on their notoriety. With an impressive album behind them and explosive live shows helping to build up a healthy head of steam, the bands star was decidedly in the ascendancy.
'Stand Your Ground', originally issued in May 1981, found the band changing the line-up with Neil Carter departing for pastures new (going on to join UFO) and being replaced by the previously unknown John Lockton. Enlisting the help of Producer/Engineer Kit Woolven who had previously worked with Thin Lizzy and on Phil Lynott's two solo albums, the band headed into Good Earth Studio, owned and operated by another Lizzy alumnus, Tony Visconti. In keeping with the bands volatile reputation the recordings were the subject of fractious conflict between Bain and Robertson, the two men at odds with the direction the music was taking.
With that in mind, 'Stand Your Ground' is a diverse and exciting record full of surprises set amidst an atmosphere of tension and nervous energy. Not surprisingly it was the final record from the band, both principals opting to go their separate ways.