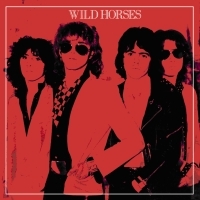 Tracklist
11
The Rapist (bonus Track)
14
Flyaway (demo) With Philip Lynott
Description
2012, special Limited Deluxe Collector's Edition. Fully remastered sound shaped from 24 BIT digital technology, full colour booklet - liner-notes, enhanced artwork, memorabilia, rare photos, and full involvement from the band.
RAINBOW AND Thin Lizzy were two of the biggest names in rock during the 70s so when Rainbow dispensed with the services of bassist Jimmy Bain and Thin Lizzy dismissed guitarist Brian Robertson it was almost inevitable that the two would join forces to create a new powerhouse rock group. Indeed, with Bain and Robertson sharing a London flat together the musical combination was quickly cemented going under the forceful moniker of Wild Horses.
Looking to solidify the line up they approached several potential drummers including, at first, former Faces and Who stalwart, Kenney Jones before settling for one time Pat Travers sticks man Clive Edwards. They also enlisted then unknown multi instrumentalist Neil Carter, later to join UFO and Gary Moore. Stepping into Konk Studios with South African born producer/artist Trevor Rabin it was this unit that cut the debut Wild Horse album for EMI, a record bristling with fresh promise.
Renowned for their hair raising personalities Robertson and Bain delivered explosive guitar driven tracks big on hooks but smooth enough to appeal to radio. Amongst the material on offer were songs co-written by Robertson's former Lizzy band mates Scott Gorham and Phil Lynott. Originally released in April 1980, the band's debut album still sounds exciting and fresh, a testimony to the talent involved.