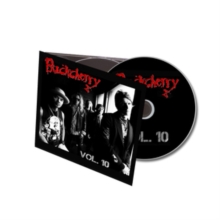 Description
Welcoming in the era of their tenth album, Buckcherry continue to prove themselves as a formidable force in rock'n'roll twenty-eight years down the line of their multi-platinum-encrusted career. Their upcoming album 'Vol. 10' presses on with mining the gold that they last hit with their 2021 hit album 'Hellbound' (the album that finally found the band deservedly recognised in the UK Top 40 Album chart with a #30 spot).

'Vol. 10' sees frontman Josh Todd's distinctive rock roar as the centrepiece to a tracklisting that's a tantalising sour mash of the album's homeland, Nashville, TN. From the enticing, bluesy one-two punch of opener "This And That", the free-spirit energy of lead single "Good Time", right down to the scar-bearing vulnerability of "Pain", 'Vol. 10' is a hefty hunk of heart and soul wrapped up in Buckcherry's celebrated mastery of raucous riffs, lighter-toting choruses and intoxicating rock'n'roll energy.

Josh Todd comments: "'Vol. 10´ is our tenth record - not too many bands get to hit that mark and we take it very seriously by pouring our heart and souls into this effort. We laboured over the songwriting to give the listener a profound rock n'roll experience and make this record unforgettable."

In between partnering up with long-time collaborator and renowned producer Marti Frederiksen (Aerosmith, Mötley Crüe, Ozzy Osbourne) to record 'Vol. 10' at Sienna Studios (along with Marti's son Evan Frederiksen and Anthony Focx), the two-time GRAMMY-nominated band have been doggedly stoking the fires of their scorching live show (which the band affectionately refer to as 'The Rock Show'). 2021 and 2022 saw Buckcherry tour across the US, Canada and Australia, joining forces with peers such as Kid Rock and Tesla along the way, as well as taking to the stage at the likes of KISS Kruise 2022 and Blue Ridge Rock Festival 2022. Hitting the ground running in 2023 to celebrate the launch of 'Vol. 10', the band kicked off the first of two legs with Skid Row on 9th March as part of their The Gang's All Here co-headline tour.

Buckcherry, completed by Stevie D (guitar), Billy Rowe (guitar), Kelly LeMieux (bass) and Francis Ruiz (drums), are due to release 'Vol. 10' on 2nd June 2023.