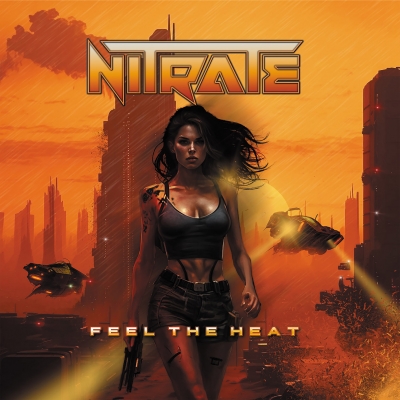 Tracklist
05
One Kiss (to Save My Heart) (featuring Issa)
07
Haven't Got Time For Heartache
09
Strike Like A Hurricane
Description
"We can't wait for everyone to hear the new album," explains bassist/founder Nick Hogg. "There is a real buzz of excitement within the Nitrate camp like never before! We can't wait for the album to finally hit the stores. This is 'hand on heart' the best album we have written and recorded, and Tom and James have devoted every waking moment over the past year to make the production the very best it can be."

Nitrate's new album, FEEL THE HEAT, is to be released on Frontier Records and boasts 11 anthemic hook filled tracks. Produced and mixed by Martin Bros Productions (Vega), it features a duet and backing vocals by female rock artist Issa, backing vocals by rock legend Paul Laine (Danger Danger/The Defiants), along with a song co/written by legendary song writer Bob Mitchell (co-writer of the Billboard #1 song Cheap Trick's "The Flame"). There are also backing vocals by Leon Robert Winteringham (LRW Project), Alan Clark (Change of Heart), and a couple of co-writes by Rob Wylde (Midnite City/Tigertailz).

After the success of their last album RENEGADE (their most successful to date, with well over 1-million streams on Spotify), they return in 2023 with their fourth album FEEL THE HEAT, working again with Tom and James Martin (Vega), vocal Swedish sensation Alexander Strandell (Art Nation, Crowne), along with Alex Cooper (Devilfire) on drums and Richard Jacques on guitars.

Formed in 2015 in Nottingham, England by bass player Nick Hogg, Nitrate is a Melodic/AOR rock band heavily inspired by the late '80s rock scene. Influenced by the likes of Def Leppard, Europe, Journey, and Bon Jovi, they have three critically acclaimed albums already to their name: REAL WORLD released in 2018, OPEN WIDE in 2019, and RENEGADE released in 2021.

A true belter of an album that sits firm among the elite of the genre!