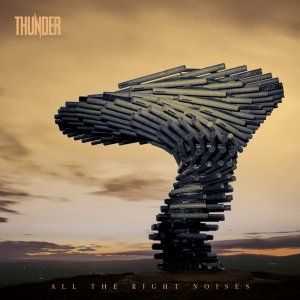 Tracklist
01
Last One Out Turn Off The Lights
05
Don't Forget To Live Before You Die
08
You're Gonna Be My Girl
Description
British hard rock heroes Thunder will release their 13th studio album 'All The Right Noises' on March 12, 2021. With their new album, Thunder return to their cherished full-throttle sound that has catapulted the formation to the forefront of British rock over the past 30+ years. A success that is fundamentally based on the lifelong
friendship of singer extraordinaire Danny Bowes and songwriting genius/guitarist Luke Morley.

With 'All The Right Noises', the Brits present the follow-up to their 2019 album 'Please Remain Seated', which featured stripped-down reinterpretations of well-known songs from Thunder's back catalog, and with which they continued their streak of
seamless run of consecutive UK Top 10 albums since their acclaimed comeback six years ago. It's a new chapter in the incredible success story of Thunder , which has produced some of the most highly regarded rock albums of the last 30 years. The key to their fame: brilliantly conceived, first-rate music. Thunder are the last
true British rock giants.