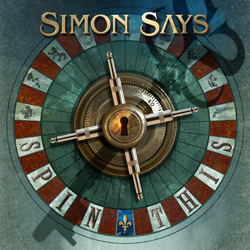 Tracklist
04
When I See You Standing There
08
Simon Says (bonus Track)
10
Dreaming (bonus Track)
12
New Year's Resolution (bonus Track)
13
Miles Away (bonus Track)
Description
Escape Music so pleased to announce the release date for Simon Says - Spin This. The CD will be limited edition to 1000 copies only! with 6 bonus tracks and the original front cover with a new front cover all will be numbered 1-1000.

Simon Says hail from Greenfield Park, Quebec, Canada and were formed from the ashes of Spectrum and Rawx. This energetic six piece originally had a following in the early 90's when "spin this" was first released with just seven tracks. It has since become a collector's item in its original form (attracting a high price!) but here is new package on Escape music with another 6 bonus tracks! All songs have the full remastering treatment with both new and old artwork!

Simon Says' calling card is a distinctive high-energy Pop-Rock sound that grabbed you upon first listen. It was that sound that easily ignited a devoted following back in the day, garnering them national interest, and leading them to become a top draw across their home province, country and even as far away as Puerto Rico and St Thomas, VI. Simon Says' debut release, 'Spin This,' and most notably the single, "The Promise," enjoyed extensive airplay on Montreal's premier rock station, CHOM-FM. The rest of the music on the cd showcased the band's musical diversity, proving on tunes such as "Love Thing," "When I See You Standing There," and "Love Don't Come Easy," Simon Says were ready, willing and able to be a force in the music world.

Escape Music with its wide array of artists, and its desire to bring back a classic rock sound, is the perfect resting place for Simon Says as they chart their way toward greater public awareness. At the same time with Rock radio stations now reaching back to program a sound forgotten by time, the driving rhythms, and addictive melodies of Simon Says are a launching pad to growing a listening audience.

So 'who is Simon Says'? The answer lies within the notes, chords and lyrics. Whether you've heard them before or you're hearing them for the first time, you will be more than ready to spin these songs repeatedly.