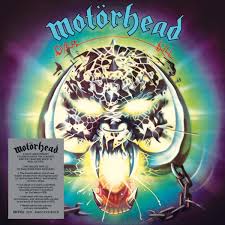 Tracklist
03
(i Won't) Pay Your Price
06
Iron Horse / Born To Lose
10
(i Won't) Pay Your Price
Description
After several years of planning, Motörhead and BMG are pleased to announce the launch of an exciting, extensive and detailed, ultra-fan-friendly release program that will span the band's career into the 70's, 80's, 90's and beyond! It starts with the Motörhead '79 campaign and marks the 40th anniversary of the two incredible releases of "Overkill" and "Bomber".

Fantastic new deluxe editions, both as hardcover bookpacks with 2 CDs and triple vinyl with previously unreleased concerts, interviews and many unknown photos from the 1979 tours. The `79 campaign captivates with a spectacular must-have: the 1979 box set. All three formats were approved with the full support and voice of the executors of Ian Lemmy Kilmister, Fast Eddie Clarke and Phil Philthy Animal Taylor.

Overkill and Bomber are musical milestones, brilliant and the influence is lasting to this day.