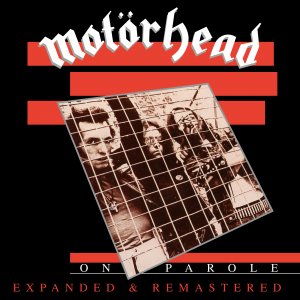 Tracklist
01
Motörhead (2020 Remaster)
02
On Parole (2020 Remaster)
03
Vibrator (2020 Remaster)
04
Iron Horse / Born To Lose (2020 Remaster)
05
City Kids (2020 Remaster)
07
The Watcher (2020 Remaster)
08
Leaving Here (2020 Remaster)
09
Lost Johnny (2020 Remaster)
10
On Parole (original Take) Bonus Track
11
City Kids (original Take) Bonus Track
12
Iron Horse / Born To Lose (original Take) Bonus Track
13
Motörhead (original Take) Bonus Track
14
Leaving Here (original Take) Bonus Track
15
Fools (demo Version) Bonus Track
Description
As a completely remastered version, Motörhead's "On Parole" will be released on CD and double LP on October 9, 2020. Both editions will be supplemented by six bonus tracks, including a previously unreleased version of "Iron Horse / Born to Lose" and an unheard demo version of "Fools".

Founder member Lucas Fox, drummer of the original line-up, has also written new liner notes, which also include rarely shown photographs and archive material. The release comes with a rare version of thecover artwork, which was previously only available in Canada, and is the only Motörhead album to bring together all the founding members (Lemmy as vocalist and bassist, Larry Wallis as guitarist and vocalist, Lucas Fox on drums).

On "On Parole" are included the very first recordings that Motörhead ever made. Although completed in 1976, their label postponed the release until 1979, the album still marks the start of one of the most important bands in rock history. Not only the uncompromising sound of Motörhead represented a paradigm shift, but also the fact that Lemmy finally appeared here as the front man of the band and thus quasi from
Accidentally became one of the most legendary, influential and acclaimed figures in rock. "On Parole" was released in 1979 as the fourth release of the band.