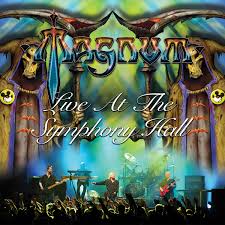 Tracklist
02
Sacred Blood 'divine' Lies
03
Lost On The Road To Eternity
05
Don't Wake The Lion (too Old To Die Young)
07
When The World Comes Dow
Description
Every music lover knows that final concerts of a long tour are always very special events. In the weeks before, the audience had already been able to read everywhere how much the band was celebrated night after night at the previous concerts, and is now all the more pleased to be able to see its heroes with their own eyes. The band is in excellent shape due to the numerous concerts, is perfectly well-rehearsed and of course would like to top everything previous at the last show. Such a tour finale took place on April 19th, 2018 in the Birminghamer ´Symphony Hall`. The British rock group Magnum finished their 42 concerts Road To Eternity tour there and delivered on the highest level.

"A really magical evening", confirms guitarist Tony Clarkin, "especially since the show was a kind of home game for us, because we all come from the area between Birmingham and Wolverhampton, but have only played once in Birmingham in the past 20 years. So this was a very special moment for Magnum in many ways." According to the situation the band members Tony Clarkin, vocalist Bob Catley, bassist Al Barrow and their two newcomers, keyboarder Rick Benton and drummer Lee Morris played themselves confidently through a successful mixture of classics and newer songs, with which the band continues their long tradition of atmospheric rock numbers successfully.

This joy of playing and the flaming interaction between the musicians and the Birmingham audience was also carried away by star guest Tobias Sammet (Avantasia, Edguy), who came on stage with 'Lost On The Road To Eternity' and - as with the studio recording of the track - actively supported singer Bob Catley. By the way, briefly mentioned in between: As a harbinger of this gripping live album, 'Lost On The Road To Eternity' will be released as a digital single on November 9, 2018.

In conclusion, the only question that remains is what distinguishes Live At The Symphony Hall from the previous Magnum live albums. "Bob and I have been doing this band a few days longer, but have never lost their enthusiasm for Magnum," explains Clarkin. "We always want to learn new things and are open to advice and tips. Accordingly the older songs have been updated again and again, we play them a little bit faster, a little bit slower, change a solo here or a little melody there. So we not only kept up the interest of the audience, but also our own fun with these numbers." You couldn't describe the magic on Live At The Symphony Hall more aptly.

"Live At The Symphony Hall" will be released via SPV/Steamhammer on January 18, 2019 as 2CD DigiPak, 3LP Gatefold.