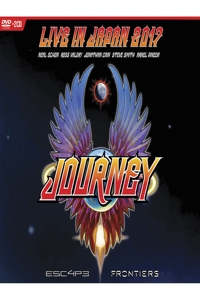 Tracklist
01
Don't Stop Believin' - Intro
10
(gitarrensolo Von Neal Schon)
12
(klaviersolo Von Jonathan Cain)
02
Separate Ways (worlds Apart)
08
(schlagzeugsolo Von Steve Smith)
13
Lovin', Touchin', Squeezin'
Description
The rock legends Journey have sold over 75 million albums, sold out halls worldwide and countless hits. In February 2017, Journey will present their album Meilensteine Escapeund Frontiers at the Budokan Hall in Tokyo.

The two hour concert film opens with Don't Stop Believin'. In addition, Journey also plays secret hits like Back Talk or Lay It Down, which have never been performed since the tours for the album release. With this performance Journey prove not only that they are great musicians, but also how timeless their sound is.

Live In Japan 2017: Escape + Frontiers is released as Blu-Ray, DVD, 2CD+Blu-Ray, 2CD+DVD.