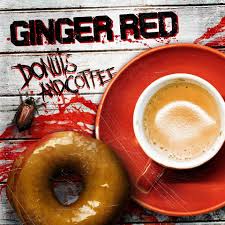 Description
On their new album "Donuts And Coffee" GINGER RED stand for fresh and cheeky rock with fat riffs, groovy rhythms and concise hooklines.

The high demands on the band's own music have often led to the band's motto "Gut Ding will Weile haben" (Good Things Will Take Time) in the band's history: after its foundation in 2006, the debut album "Hard As A Rock" was released in 2010, followed by a tour with the PRETTY MAIDS and various other concerts.

From this era there is only guitarist and band founder Tom Weise left and so it took another few years until a new line-up was found to fulfill the high musical goals. "We wanted to make something new and fresh, but not deny the origin of Ginger Red", says Tom Weise.GINGER RED - with the charismatic singer "The MAD" and a live - experienced band - wants to show one thing both live and in the studio: the friends of "Ginger-Rock"!

In addition, they have teamed up with the very renowned producer Fabian Zimmermann / Hafen Studios
to realize all ideas in the best possible way. "Without any pressure, but nevertheless with a high demand on himself, GINGER RED has immortalized himself in a fresh, clear album, which perfectly combines the high-end guitar riffs with the melodic hooklines and the matching lyrics. the band founder continues.

The result is 10 songs full of joy and rock feeling, which are refined by several guest musicians. Among them are Chris Green (TYKETTO), Manni Schmidt (REFUGE), Mattias IA Eklundh (FREAK KITCHEN) or Frank Pané (BONFIRE, SAINTED SINNERS). The band is very happy about that: For us this is already a huge acknowledgement before the release that these outstanding artists took part on our album. We don't take that for granted and are very grateful.''

If you ask how the band would classify themselves, you get the answer: "Nostylisch"! (a mixture of nostalgic and stylish). You can be curious!