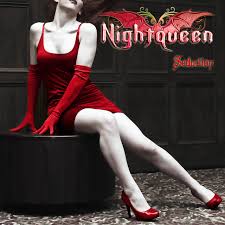 Tracklist
01
Power Infusion(instrumental)
Description
Nightqueen is a Symphonic Power Metal band from Genk, Belgium. The band is led on CD and on stage by Hellen Heart. Hellen has a unique power voice with an incredible vocal range, which characterizes the sound of Nightqueen in its own way.

It all started in 2004 when Rex Zeco founded the band. Years later, at the end of 2010, Nightqueen released their first demo, in early 2012 the first album "For Queen and Metal" was released. In 2014 Nightqueen released their second album "rEvolution". After the release, Rex Zeco realized that the band had reached their limit in the line-up at that time and so he changed the line-up drastically. Paddy Lee on bass, Andy Herman on drums and Gio Zuccari on keyboards joined the band - followed by Hellen Heart on vocals. With Cosi Matrigiani as another guitarist, the band was complete again: Nightqueen had finally found their ultimate line-up.

The band went back to the studio to record their 3rd album called "Seduction". It was produced and mixed by Rex and Christian Moos (who already mixed Rhapsody albums with Delain and Luca Turillis) at Spacelab Studios in Germany.