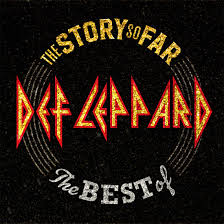 Tracklist
01
Animal (remastered 2017)
03
Pour Some Sugar On Me (remastered 2017)
04
Love Bites (remastered 2017)
06
Armageddon It (remastered 2017)
08
Two Steps Behind (string / Acoustic Version)
10
Rocket (remastered 2017)
11
Hysteria (remastered 2017)
12
Have You Ever Needed Someone So Bad
14
Action (revised Version)
15
When Love And Hate Collide
17
Personal Jesus (remix)
04
Bringin' On The Heartbreak (remastered 2018)
05
Rock On (radio Edit / Remixed)
08
Stand Up (kick Love Into Motion)
15
No Matter What (album Version)
16
All I Want Is Everything
17
It's All About Believin'
Description
Def Leppard, Britain's biggest arena rock band, will release The Story So Far.... an album of the greatest hits and songs of their famous career. This set includes the previously unreleased song °Personal Jesus°, available on CD for the first time.

Since their debut in 1980, over 65 million albums have been sold worldwide and have proven to be one of the hardest working and consistently powerful live rock bands (playing to over 50 million fans in the last 15 years alone).

The remastered set is available in 3 formats: 2-CD/1-CD/2-LP with a free 7" single with Personal Jesus and a brand new song (only available in this format) We All Need Christmas.

The band is currently touring the United States before going on a sold-out arena tour to Great Britain, on which she plays the classic album Hysteria with the complete and other classics live.