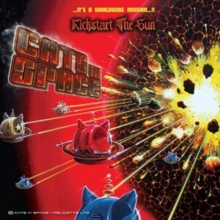 Tracklist
01
Kickstart The Sun Intro
05
Goodbye To The American Dream
15
Kickstart The Sun - Reprise
Description
'Kickstart The Sun', which took a full nine months of studio time and was partially recorded at the legendary RAK Studios in London, raises the bar even higher from previous albums. The trusted team of producer/guitarist and main songwriter Greg Hart and engineer Ian Caple have crafted 15 epic AOR numbers that have a total playing time of over 60 minutes. The album features some very special guests who confirm that the band is pushing its musical boundaries to the absolute maximum.
Legendary pedal steel player B.J. Cole (Elton John, Humble Pie, Gerry Rafferty, Stranglers, John Cale, Uriah Heep and many others) is among them, as well as Australian violin virtuoso Ian Cooper, or Emily Lynne and Lara Smiles who normally sing in the chorus of The Australian Pink Floyd.
Kickstart The Sun', will be available as a deluxe double CD including a 10-track bonus CD with exclusive recordings and alternative mixes, in addition to the single CD version.