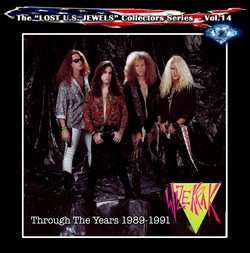 Tracklist
01
No Tracklist Available!°
Description
-Anhighly infectious and ambitious outfit coming from Maryland, Baltimore, WIZEKRAK members shared a love foracts like Van Halen, Ozzy, Rush, Iron Maiden and David Bowie and collectively created a brand that they called"part Glam, part Sleaze and all Gleaze"!

-Armed with infectious vocal hooks, killer guitar parts and a thunderous live set, WIZEKRAK played almost every week and were a staple part of the club scene in places asMaryland, Virginia, Delaware and Pennsylvania, andthey arrived to play also to clubs like The Whiskey and Gazzarri'sin Los Angeles.

-With a sound that was highly reminiscent of Poison, Tuff and Warrant at their most melodic, WIZEKRAK retained their own identity, thanks to three highly polished and well received demo tapes, all of whichhave been included in this Cd release.-

15 tracks, fullyremastered from the original masters-tapes, and enriched by the usual de-luxe 16-pages booklet full of unseen pics, flyers and memorabilia.

-A must-have Cd for all the fans of Poison, Warrant, Tuff and Trixter!