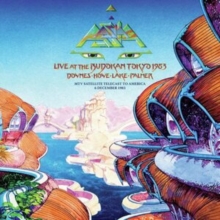 Tracklist
01
Introduction From Mark Goodman (mtv)
04
Here Comes The Feeling
06
Steve Howe Solo (sketches In The Sun)
09
Geoffrey Downes Solo (ihiri - The Setting Sun /bolero)
10
The Smile Has Left Your Eyes
Description
The multi-platinum global superstar rock band ASIA was formed in London in 1981 and consisted of the most important people in the prog rock scene; including Geoffrey Downes (Yes & The Buggles), Steve Howe (Yes), Greg Lake (ELP) & Carl Palmer (ELP).

The outstanding performance "Live at the Budokan, Tokyo, 1983? was the first live broadcast between Japan and MTV and was previously only released as VHS.

"Asia In Asia - Live At The Budokan, 1983" has been impressively remastered and is now released for the very first time as a CD and 2LP product. The album features ASIA's biggest and best known tracks including "Heat Of The Moment", "Only Time Will Tell", "Sole Survivor" and "Wildest Dreams".

Additionally, a comprehensive deluxe boxset will be released featuring the live performances on 2LP, a 2CD with the Japanese and American versions, and a Blu-Ray with the original restored MTV concert video, with remixed audio and the original laserdisc release. In addition, the box set includes nine post-production memorabilia from the tour. This new release comes with the original artwork by the fantastic painter and artist Roger Dean.