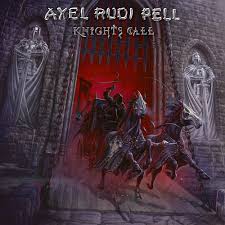 Tracklist
01
He Medieval Overture (intro)
02
The Wild And The Young
Description
The successor of "Game Of Sins" (number 11 in the German charts in 2016) is called "Knights Call" and is the guitarist's 17th (in words: seventeenth!) studio album. This fact alone speaks for itself and the consistency with which he has been releasing albums since 1989. All of them have been released by the same record company SPV/Steamhammer and have found over 1.5 million buyers worldwide. But that is no reason to rest on our laurels. "Why should I stop?" asks the 57-year-old and gives himself the answer:"As long as I can do what I enjoy the most, I'm satisfied."

In principle, Pell lives a life that others only dream of: he not only turned his hobby into his profession, but also turned it into a vocation at the same time. His passion drives him, he is always looking for the better chorus, the better bridge, the better solo, the better song. "Composing is like much in life, either you can or you can't." He trusts himself, but also his German-American team around singer Johnny Gioeli and drummer Bobby Rondinelli. And that includes his fans. "Direct feedback is important, Pell only in the studio would be boring."

AXEL RUDI PELL 2018 focuses on more groove, more melodies and more variety. The mixture of medieval mysticism and fantasy folklore is still present, but it was shot here and there on little screws.