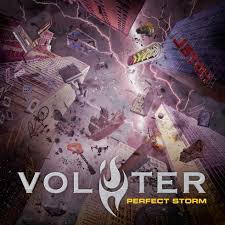 Description
VOLSTER is a Swedish hard rock band started by guitarist Ulf Andersson and bass player Henrik Lundberg
who were both members of the and Masquerade in the late 80s and early 90s. While Ulf left Masquerade
for otherprojects,Henrikcontinued making a couple of albums with Masquerade before they broke up. In 2009 Henrik released an album with the band House of Heavy. Ulf and Henrik met up again in 1996 to record a four song demo. This demo was called VOLSTER and in 2013 (17 years later) they decided to pick up where they left off and plans were made to start a band performing these songs and also write new ones. They kept the name VOLSTER. Henrik Lundberg says:

"Brought up with music from the 70th and 80th the roots are deep. So it's no surprise our music is built from these glorious decades even if we also involve more modern flavours. The main ingredient is the melody, what else makes a great song other than great vocals and interesting riffs of course. With members having
been active in the music business for decades now is the time to make all our music dreams come true,
playing the music we love. VOLSTER is melodic hard rock as it's supposed to be."