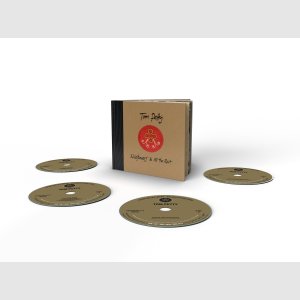 Tracklist
02
You Don't Know How It Feels
01
Something Could Happen
08
Somewhere Under Heaven
01
There Goes Angela (dream Away)
02
You Don't Know How It Feels
10
There's A Break In The Rain (have Love Will Travel)
01
You Don't Know How It Feels
Description
Shortly after the triumphant 40th anniversary tour with The Heartbreakers, Tom Petty announced that his next major focus will be to finally re-visit his masterpiece Wildflowers (1994), co-produced by Rick Rubin and Mike Campbell. Wildflowers changed Tom's artistic life in many ways - as a musician, creative partner and band leader - while a profound personal crisis influenced his songs. In the end, Tom wrote more songs than he could publish at the time. In fact, Petty, Rubin, and Campbell completed the album as a double CD with 25 songs, but his label advised a restriction. Released on November 1, 1994, Wildflowers was Tom's most emotionally disarming album and has remained so to this day.

Wildflowers & All The Rest will be released on October 16th on Warner Records. The collection was curated by Tom's daughters and his wife, and Mike Campbell and Benmont Tench of Heartbreakers. Co-producer was Tom's longtime engineer and co-producer Ryan Ulyate. Adria Petty was the creative director, Blaze Ben Brooks did the packaging illustrations, Maria Sarno did the cover artwork, and Mark Seliger, Robert Sebree and Martyn Atkins did the Wildflowers-era photography.

The Deluxe Edition contains 15 songs by Tom, which he recorded in his home studio. These solo demos offer an intimate insight into Tom's songwriting process. The Deluxe Edition is rounded out with 14 live performances. The collection comes in all formats and has a very special packaging.