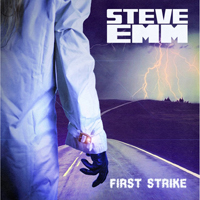 Tracklist
01
No Tracklist Available!
Description
After many past and present collaborations with underground bands in the Milan area, the talented singer/guitarist/songwriter Steve Emm (aka Stefano Mainini) is ready to deliver his debut-album, called "First Strike", a triumphant homage to the sound of the '80s, that has been part of Steve's life since his youth and that still is in the hearts of many.

The result is simply amazing: 10 incredible songs, written, performed and sang out in the vein of the legendary era of the genre, with clear references to bands like Signal, Survivor, King Cobra, Fortune, Whitesnake and Streets.

So, don't be shy, get your '80s clothes out of the closet and start partying, as this is one of the best Melodic Rock album of 2021.