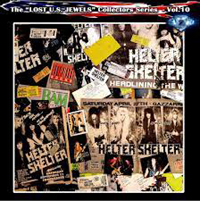 Tracklist
01
No Tracklist Available!!!
Description
One of the most anticipated reissue-CD of 2021, "SINSATIONAL - The Hollywood Stories" is the debut CD by L.A. Glam / Hair Metal 80s-90s sensation HELTER SKELTER.

HELTER SKELTER was dubbed "The New Kids Gone Glam" by Crash! Magazine and UK Metal Forces described them as a class act delivering commercial edged Pop Rock.

They had a classy look, worked hard and sold out shows at The Troubadour, Whisky and the Roxy, with their songs lying somewhere between the pop-rock savvy of Poison and the hard rock of White Lion.

The CD will feature the entire material recorded by the band in 1990 and 1991 (6 tracks) plus three live bonus-tracks, all carefully remastered, and enriched by the usual 16 pages full-color booklet featuring the complete story of the band and tons of unseen pics, press-cuts and gigs' flyers.

Get ready for a trip down memory lane on the Sunset Strip, back to late '80s/early '90s!