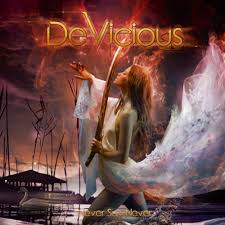 Description
DeVicious are an international hard rock band originating in Germany. The formation already released five video clips, and now the first physical release follows on 24.08.2018 with the album " Nevr Say Never" via Pride & Joy Music.

Founded by six longtime music friends in Karlsruhe in 2016, the formation consists of former musicians of the formations Andi Deris Band, Umbra Et Imago, Chryztyne and Zar. Musically, the six is oriented towards genre greats such as Van Halen, Europe, Journey, Def Leppard and the Scorpions.

The formation consists of Alex Frey (bass, song writing, production), Radivoj Petrovic (lead guitar), Gisbert Royder (rhythm guitar), Denis Kunz (keyboards), Lars Nippa (drums), and the Serbian singer Zoran Sandorov aka Mister Sanders. After the release of the first videos for the songs "Everything" and "Penthouse Floor" in spring 2018, the bands Xtasy and Ammunition toured Germany in March. In December 2018 another tour will follow together with Xtasy and the US Hard Rock legend Hardline. A second album is already in the works.