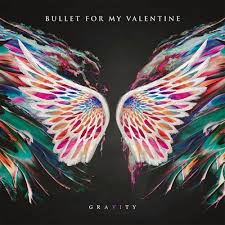 Description
The British rock band Bullet For My Valentine announces their new studio album "Gravity" for June 29th via Spinefarm Records. The band released their first single "Over It".

Bullet For My Valentine, one of the biggest British rock bands of recent times, will release their new album "Gravity" on June 29, 2018 via Search and Destroy/ Spinefarm Records. For the four musicians, the new label home also goes together with a creative opening. Without diluting their trademark sound, "Gravity" increasingly uses synths and Score-Electronica.

With Jason Bowld, meanwhile promoted from tour drummer to a permanent member of the band, the two
Founding members singer/guitarist Matt Tuck and guitarist Michael 'Padge' Paget as well as bassist Jamie Mathias, on board since 2015, start a new chapter for the band.