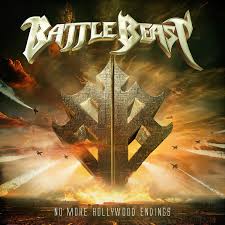 Tracklist
02
No More Hollywood Endings
Description
100% Heavy Metal - 0% Bullshit!" - BATTLE BEAST's recipe is simple but effective and with their catchy hits full of crisp riffs and Noora Louhimo's incomparable vocal fullness, the young Finns have recently become the flagship of modern heavy metal.

...while the band began to write eleven new hymns on tour, which are now available in the form of their fifth studio album "No More Hollywood Endings", which is about to be released to humanity. It was recorded by keyboarder Janne Björkroth, Viktor Gullichsen and guitarist Joona Björkroth in the JKB Studios, production and mix were also handed over to Janne. Jan Yrlund (among others KORPIKLAANI, MANOWAR), a not completely unknown person, took care of the artwork, as he was already responsible for the design of "Bringer Of Pain".

So the driving opener 'Unbroken' comes up with orchestral sounds, which for the first time were recorded by a real string ensemble. The title track 'No More Hollywood Endings', at the same time the first single release, surprises with extravagant lead melodies before the hymnal stadium rocker 'Eden' and 'Unfairy Tales', which breathes the spirit of the 80s, follow. On 'Endless Summer' Noora delivers one, if not her most soulful performance to date. The second half of the album starts with an oldschool 8-bit intro, before 'The Hero' picks up the tempo again and with 'Piece Of Me' another breaker follows. In the chorus of 'I Wish', the ballad of the album, orchestral elements are in focus again. The duo 'Raise Your Fists' and 'The Golden Horde' push forward irresistibly, before BATTLE BEAST finally ignite a worthy final firework in the form of 'World On Fire'.