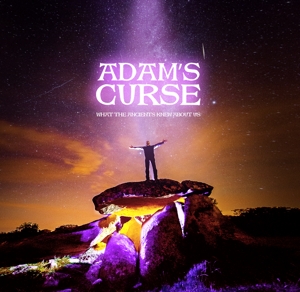 Tracklist
11
What The Ancients Knew About Us
Description
Adam's Curse is a new band formed by ex Glyder guitarist and songwriter Bat Kinane. Glyder released five albums in the noughties and toured around Europe as a well-respected classic rock style outfit. They were signed to Bad Reputation France and SPV Germany. They shared stages with the likes of Metallica, Thin Lizzy and Slash to name a few. Since Glyder split Bat recorded some folk albums based around Irish local history and folklore. During this time, he was also collaborating with some other musicians.

Bat produced and recorded an EP with Adam's Curse Bassist, John Treacy of John's solo material. The drummer Brendan Gilligan and Bat's history goes back 30 years when as young teenagers they played in a thrash metal band called Cursed Earth. About five years ago they played a one-off gig with some of the material off the new album, but life got in that way of them progressing any further. During the Covid epidemic Bat found himself with a lot of spare time and Adam's Curse was born. The style of the band goes back to Bat's classic rock roots with influences of Thin Lizzy, Rory Gallagher married with elements of modern and progressive rock. The band derives its name from the W.B. Yeats poem of the same name "Adam's Curse" .

Most of the album was written during lockdown but some of the tracks are a little older. The album opening track, "A Vibe for Philo" is a homage to the annual tribute concert held in Dublin every year since Phil Lynott's death. It was started by a close friend of Phil Lynotts's, Smiley Bolger. The concert was where Glyder had its beginnings back in 2004. The song was written the night after Bat last played the concert in 2011 as a member of the Pat Mc Manus band. The second track is "Stargazer", a song Bat wrote after his uncle and father died and was on the Glyder debut. The album explores a lot of the themes of life and death with a similar theme in the ending song "Starlight". "Satellite" was inspired by Bat's interest in astronomy and as a child got a small Russian telescope from his parents one Christmas. The title track was inspired by walking in the Wicklow mountains where there are many megalithic tombs. It's about the predictivity of human behaviour and since mankind has existed, we still have the same predictable traits. Mankind is capable of great things, yet it is invariably destroying itself. Themes of global warming and the destruction of the planet are explored in "Poison Spring" and "Borrowed time" while "What lives matter" and "Unmask your face" deal with contemporary issues of cancel culture, keyboard warriors and the hatred that exist in the world today. More personal themes are explored in "My Canoe" which is about doing everything one can to raise a family and "Funeral of my soul" was written not long after Glyder split and deals with the frustration of being an artist. One of the highlights of the album is "Tattoos and Loneliness" about a girl who looks at her ink and it reminds her of her past.

It's a very rocky, guitar orientated album. The band while presently a trio will add another member for live gigs as there is a lot of guitar texture and harmony.