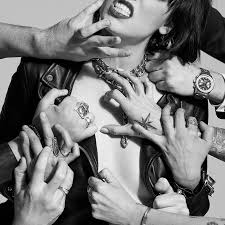 Tracklist
07
Killing Ourselves To Live
Description
The new album "Vicious" by Grammy winner HALESTORM will be released on 27.07.!

Widely recognized as one of the most important and iconic bands of modern hard rock, HALESTORM made their spectacular debut in 2009 with their self-titled first LP, followed in 2012 by the resounding success " The Strange Case Of... "which included the Grammy-awarded Smasher " Love Bites (So Do I) ". Both albums achieved gold status in the USA.

The acclaimed third album of the band around singer Lzzy Hale, " Into The Wild Life ", stormed directly into the top 5 of the US charts (DE #24) after its release in April 2015, in the "Top Hard Rock Albums" charts it even reached #1 - both placements marked the highest chart placements so far.

As one of the hardest working bands in the music business, HALESTORM have spent much of their lives "on the road". The band plays over 250 concerts every year, including various sold-out headliner tours and performances on festival main stages. This year the band will again travel to Germany to present "Vicious" live.