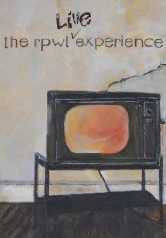 Tracklist
02
Breathe In, Breathe Out
05
This Is Not A Prog Song
06
I Watch Myself Sleeping
04
Choose What You Want To Look At
Description
2009, RPWL was influenced by Pink Floyd, Genesis and Porcupine Tree and you can hear that! The musicians started as a Pink Floyd coverband and meanwhile they are one of the leading Neo-Prog bands worldwide. The album delivers catchy melodies, stunning keyboards, great guitar solos and good vocals! First Live-DVD recorded at Wyspianski Theater/Poland in February 2009.
Bonus songs on the spec. ed. are ALONE AND SCARED and REACH FOR THE SUN plus incl. Interview, Tour Footage, Video and more. Dolby Digital 5.1 Sound, Dolby Digital 2.0 Stereo, NTSC, Region Code 0, Approx 113 min
Special Edition feat. 2 Bonus-CDs.