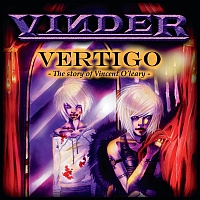 Description
2011, In 2001, drummer Ralf Schulz (Ex-TYRAN' PACE, Ex-SINNER) and bassman Thomas ,,Huyz" Mössinger (Just Priest) met in studio with a bunch of song-ideas, which appeared from a time, when both together rocked in a band called ,,BUSTER". The seek for a fittin' guitarist was on top of the to-do-list, when mother fortune came along. They stumbled across Oliver Kaufmann (also a former member of TYRAN' PACE), who slept totally drunk at the edge of a little bathin'-sea near an open air-festival. Oliver had been a kind of musical-mastermind of TYRAN' PACE. Easily seein' that not so much had changed in the passed years, the three guys decided to found a band, which will take it's place in metal heaven under the name VINDER.
They released their first album ,,VISIONS OF TIME" in 2005. After that, Dirk Schäffner (ex- THE ARMADA) got into the band as the new lead vocalist. To use Dirks lyrical- and voice-potential right, new songs were written, for him to enclose his ability and to give the band a new face. Songs morphed to a story and the story became a concept album, called ,,VERTIGO".
Presented with a by-packed comic, drawn by enormous talented ANJA UHREN, ,,VERTIGO" will tell this dark story by creatin' moods and emotions, visually, acoustical and lyrical. Something never seen in German metal scene before this way....