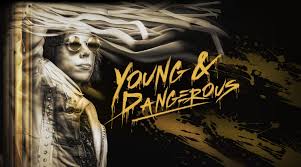 Description
In just a few years, The Struts have managed to become the favourite band of several rock legends and
-icons to advance: So the UK Glamrock innovators were not only able to play in the supporting programme of The Rolling Stones, The Who or Guns N' Roses, but were also performed by the personally selected by Mötley Crüe to open the band's very last concerts. Dave Grohl even called the band around mastermind Luke Spiller the best band that ever played in the Foo Fighters' prelude. After her 2016 debut album Everybody Wants The Struts are now back with their second album: Young & Dangerous. An apt title and an album that cement their reputation as one of the most exciting, passionate rock bands of our time once and for all.

On Young & Dangerous, The Struts focus on singing hymns with fat riffs that they have recently launched in so many stadiums and arenas around the globe. They captured this sound with their producers Butch Walker (Weezer, Panic! At the Disco) and Sam Hollander (Fitz and the Tantrums, Neon Trees): the result like a glam rock update in 2018.