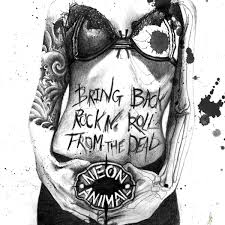 Tracklist
01
I'm Killing Myself & Everyone Else Is Helping Me
03
Bringback Rock 'n' Roll From The Dead
Description
Introducing Neon Animal, London's hottest new rocking sensation - Mission: "Bring Back Rock 'N' Roll From The Dead". Imagine yourself in a new world, one ruled by leather & feathers & black boots & cheetah skin & songs that sound like they were made to melt jukeboxes. Neon Animal are already living in that world. And you're invited." - Classic Rock Magazine. Born in vivid London, Mark Thorn (vocals), Miguel Martins (guitar), Jonathan Gaglione (bass) & Iv K. Lizz (drums), met in the city's underground music scene when their common disillusion with the genre's current sterilised state of affairs brought them together in a shared vision:
a world where Rock & Roll still ruled and carried in its sound that primordial feeling of danger, urgency, magic & motion that once promised to change the world. In the summer of 2016, only a few months after first having set foot in the same room, the band went to Porto and recorded this debut album, "Bring Back Rock 'n' Roll From The Dead", in a 10 day musical binge. The outcome? "Sleazy, slinky 70's glitter and 80's glam" where "every song features a big gooey chorus and rampant guitar heroism" (Classic Rock). With a limited edition self-release of their debut in their bags, the band toured Europe for more than a year. The band
finished 2017 riding high on the waves of enthusiasm due to the critical acclaim of the U.K. & International press in response to their debut album: Classic Rock Magazine rated the album as a 4/5 and included the single in their "Best of 2017" end of the year issue.