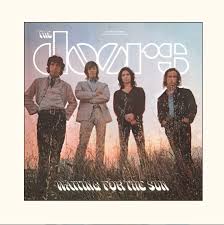 Tracklist
03
Not To Touch The Earth
09
We Could Be So Good Together
01
Hello, I Love You (rough Mix)
02
Summer's Almost Gone (rough Mix)
03
Yes, The River Knows (rough Mix)
04
Spanish Caravan (rough Mix)
05
Love Street (rough Mix)
06
Wintertime Love (rough Mix)
07
Not To Touch The Earth (rough Mix)
08
Five To One (rough Mix)
09
My Wild Love (rough Mix)
10
Texas Radio & The Big Beat (live At Falkoner Centeret, Copenhagen 9/17/68)
11
Hello, I Love You (live At Falkoner Centeret, Copenhagen 9/17/68)
12
Back Door Man (live At Falkoner Centeret, Copenhagen 9/17/68)
13
Five To One (live At Falkoner Centeret, Copenhagen 9/17/68)
14
The Unknown Soldier (live At Falkoner Centeret, Copenhagen 9/17/1968)
Description
In July, 1968, The Doors released "Waiting For The Sun." It was their third studio album in only two years, their third platinum success - and the first time the band conquered number 1 in the American album charts. For the 50th time
To celebrate the 50th anniversary of the album, which seamlessly blends into the legendary Doors catalogue with songs like "The Unknown Soldier", "Five To One" and the number 1 hit "Hello, I Love You", a 2CD Anniversary Edition with rough mixes and 5
Live songs from a Copenhagen concert in 1968.

The mix was remastered from the original mastertapes by longtime Doors sound engineer, mixer and producer Bruce Botnick.