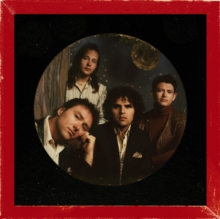 Tracklist
09
Little Rock 'n' Roller
Description
Before Surf Curse release their new album "MAGIC HOUR " on October 7, they leave us with a self-portrait of themselves - in the form of their new song. Written by Surf Curse and produced by Chris Coady, "Self Portrait" provides another
impression of the upcoming album "MAGIC HOUR". Previously, energetic singles such as "Lost Honor", "TVI" and the power pop anthem "Sugar" had already whetted the appetite for the new work, the fourth overall from the U.S. platinum award-winning band from Los Angeles and also their debut on Atlantic Records.

For the recording of their new album "MAGIC HOUR" Surf Curse went to the hallowed halls of Electric Lady Studios in New York City. Taking their tried and true indie rock approach, Surf Curse explore a wider range of sonic styles and colors in the new songs than ever before in their nearly ten-year band history. The album also marks the official debut of two new band members, Noah Kohll and Henry Dillon . The new lineup allowed Surf Curse to push their already ambitious songwriting craft to whole new heights. The span ranges from blistering songs like the album opener "Arrow" to the melancholy blues rock of "No Tomorrows."