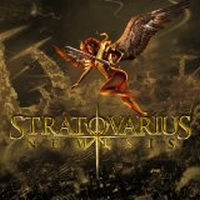 Tracklist
10
Fireborn (bonus Track)
01
Dvd: Documentary Nemesis Day:
03
Nemesis Days - The Starship Travelling
08
Unbreakable Live @ Havirov
10
Part V - Friends Around The World
15
If The Story Is Over (video)
17
Under Flaming Skies (video)
Description
2014, NEMESIS is the album that brought the mysterious magic in Stratovarius' life. The album blew everyone away and set the beginning of another start in the long history of the Finnish band. The 80 minute documentary ´Nemesis Days` follows Stratovarius around the world and gives an in-depth view of Finland's finest metal band, revealing the story of NEMESIS and sharing their view about the evolution of the band. The fans who have remained loyal to the band for so many years are also an important part of this documentary DVD. For Stratovarius completists, the DVD features the first official release of the most recent music videos (,,Halcyon Days", ,,Unbreakable" and the brand new ,,If The Story Is Over"). Experience the band like never before - you've never been closer to them. Welcome to a new chapter of Stratovarius!